Descending Cost of Timing
ORGSU Event management system offers the timing as an integral part of the package. It employs a descending cost of timing what makes it affordable for both small and large events. It gives you a chance even to make money by publishing a unit timing price and save the difference. This approach guarantees that ORGSU App Timing and Live Tracking has the most competitive price on the market. 
Descending Cost of Timing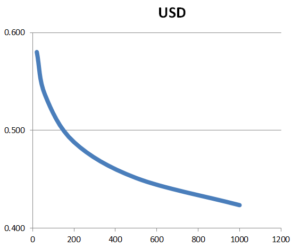 We have been serving with the timing since 1990 and we have understood the real cost of the data processing, telecommunication, hardware, and other expenses. The result of our nearly 30 years of experience is in the following descending function what is inbuilt in ORGSU timing price calculation. The timing price varies with the currency so check the table inside the administration or write to us to get the price table.
How to get a timing license
The timing is a part of the ORGSU technology and event organizer is not obliged to use it. If a race director decides to use ORGSU integrated timing a timing license takes place. That is just a click to obtain the license key. Finally, a user must enter his private key for the further security of the timing process.

Inexpensive App Timing
Many events can be easily timed by your staff with the cellphones. It is very reasonable and precise enough for most of the ordinary events.
Register your company in an event organizer profile and get all your event management and timing features just now.