App Timing of Your Race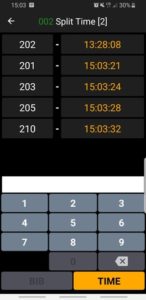 ORGSU technology is perfect for effective timing of your race. It is a great, inexpensive and most importantly least invasive technology on offer: all you need is a smartphone. It is especially suitable for ultra-trails and swimruns with a large number of split times.
You will need to assemble a team of volunteers/crew members and ask them to download the ORGSU Timekeeping App, available for both iOS and Android. Then, assign one person to each one of the timing points you have defined in Event setup; they will need to be physically present at each timing point so plan well ahead of your race start! When they see an athlete coming, they just simply enter the corresponding BIB and hit TIME. That's it. You can test it for free on this page.
From here to the results:
Register your company as Event Organiser.
Setup your Event and Races in ORGSU – or send us the description and we will set it up for you
Import all your current athletes into the Athlete database in Excel format (Name, YOB, Sex and optionally BIBs) – or send us the excel file and we will do it for you. This is an option only.
Specify Timing points for your race, there is a handy Google Map to help you do it. There is no limit as to how many timing points can be used. – if you wish, we can help you with any part of the setup.
Assign BIBs: either manually or use the automatic BIB assignment function.
Do your test timing ahead of your race to gain confidence. Once you have finished, simply delete all times in the Technical Times Table. You may test as many times you want.
On the race day, ORGSU has you covered with our venue registration module. Thirty years of experience will make sure you have as stress-free race-morning as possible.
Start your race from within the Timing App. Measure all split times with the Timing App (by the person at the timing point). Catch all the athletes at the finish line with the Timing App. If you are expecting large numbers of athletes at any timing point at once, feel free to use two Timing Apps to ensure everyone's time is recorded.
Effective and super easy. If there is no or weak internet connection at the timing point don't worry, the app will store all the times and send them when the Internet is available again. A free mobile timing trial page is here.
See the pricing here.