App GPS Tracking
ORGSU App Tracking is super easy to use 
for any individual or team event. All that's needed are smartphones and cellular data coverage. Athletes or teams need to download the ORGSU Tracking App to their smartphones (Android or iOS) and carry the phone with them during the race. The event organizer (or timer) must distribute the access codes.
Information for athletes
Login codes are provided by your event organizer.
Ensure your battery is full and mobile data are on.

Switch off all Wifi/Bluetooth internet connections.

Allow location services on your device for the Tracking App.

Do not allow

'GPS accuracy' by

Wifi or Bluetooth

. Use the device only option. No scanning for Wifi or Bluetooth.
To test that your app is working correctly, go outside and log into the app with these access codes:
Race ID: L06J5XES, BIB: 999, Private Key: 123456 
These are just TEST codes. Do not use these for your race. Use the access codes your Organizer provided you with.
Check that your locations are displaying: Tracking service here.
Gathered and Sent don't have to be exactly the same but both should be increasing with time.
There is no map information in the App. It only sends location data to track your race.
Store your phone in a plastic waterproof box.
Make sure the device has easy access to the sky on a forearm, or on top of your backpack.
Don't worry about the phone going to sleep, the App works in the background.
Use the app in an event of distress. There is an SOS button to message the race organizer.
Log off the App after finishing the race.
How to get tracking on the event's site?
Register your company as an Event Organiser.
Setup your event or send us its description and we will set it up for you.
Import all your current athletes into the start list or open online registration on your website.
Specify checkpoints for your race, there is a handy Google Map to help you do so.
Do your test timing and test tracking ahead of your race to gain confidence. Delete all the test data.
Inform your athletes that they need to download the ORGSU Tracking App.
Create and publish the tracking applet, a function that will show your athletes on a map during the race.
Supply your athletes with the login credentials for the Tracking App.
Install a data projector and show the GPS Tracking live at the venue. That will ensure a good spectator engagement when athletes are on course.
Time your race with the ORGSU Timing App – read more here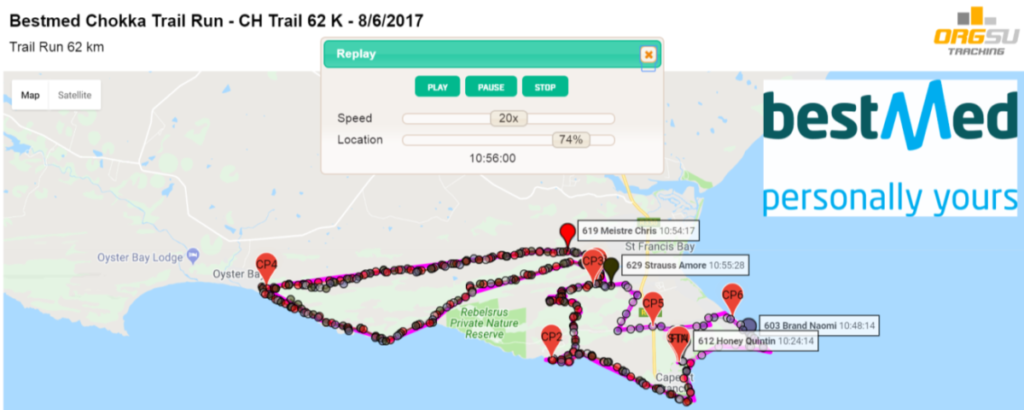 The cellphone solution is literally hundreds of times less expensive than SPOT devices. You can combine SPOT devices with smartphones if you wish, for top athletes perhaps.