Sports Magazine
Informing about sports? Are you willing to collaborate with event organizers and series owners on the database and business level? Sports magazine gets race director services with registration technology.
ORGSU is a new business-to-business digital marketing database software. It enables the cooperation of sports magazines and event/series companies.
The athlete login, athlete profile, race calendar, online registration, event e-shop are the main features for your sites.
Race Director Services
Just two javascript rows will bring to your sports magazine website the race director services. It means a race director's account registration and her administration of the events. You can make a different deal with each registered race director to get a commission of the entry fees sold. The simple trial page of it is here.
A registration technology comes to you
ORGSU has one underline philosophy: To keep athletes on your sports magazine website. Athletes will find there all the features and services that you will get rights from race directors – event organizers. So you can configure your own payment gateway and then sell the entries on behalf of race directors. There is no need to redirect athletes from your event calendar to any registration portal.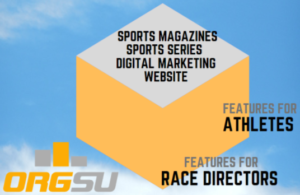 The race calendar with the start lists and even live results bring athletes to your site and keep them here at all times. Athletes will find on your website their athlete's login and profile with many features.  The world-class functions of the registration technology are mentioned here.
Make new business
Race Directors will happily share the business with you. Your page advertises their events so Event Organizer is willing to make a business deal with you.
Your new database of athletes will participate to create the list(s) of the race(s) entries. ORGSU builds the athlete database for every company in accordance with its website attendance.
Your athletes may trade to each other. And your revenue will grow to 200%.
ORGSU digital marketing database software brings you the feature to gather race entries and sell it via API to an external third subject. Ask us more about how to launch this feature.
All the payments will be gathered by your chosen gateway from PayPal or Stripe for example.
Your Athletes Database
The sports magazine site will attract more visitors with ORGSU. The Internet traffic and the business will rise up. And you will acquire all athletes to your own sports magazine database. Each athlete will be earning your loyalty points. If you already have the database, it can be imported to Orgsu easily.
Register your sports magazine account here. It will guide you through the personal account and then the company's profile. Or just start with the race director registration to learn how ORGSU software works. The sports magazine function profile can be added later. Do not hesitate to ask us for more details.