Administrator Login
Use the login link when you have your ORGSU User name and Password or when you have forgotten your password. This is not an athlete's login. Do you have trouble with your Login? Contact us, please.
New Crew Member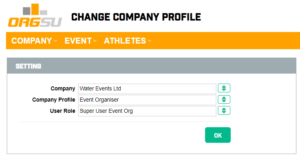 If you are a new crew member to already registered company, then press Sign Up – New Crew Member. You will be lead through your personal registration only. Then you must log out and wait until the company's Superuser or CEO adds you to the company. Superuser or CEO must open an administration page Company – Crew Member and by pressing the green + adds you as a company crew member. Then you can do your regular admin login and finally select your company and your role in it. ORGSU system will remember your assignment then.
Registering a new company
Press any of the 4 top buttons to provide both a Registration of the Super User Personal Account (Administrator) and the Registration of a new company in a selected function profile. Do not worry if you are not sure what profile is the best for you. Another profile can be added any time later from an admin backend. Once you will get through your registration the main menu buttons 'COMPANY', 'EVENT' and 'ATHLETES' wait for your commands: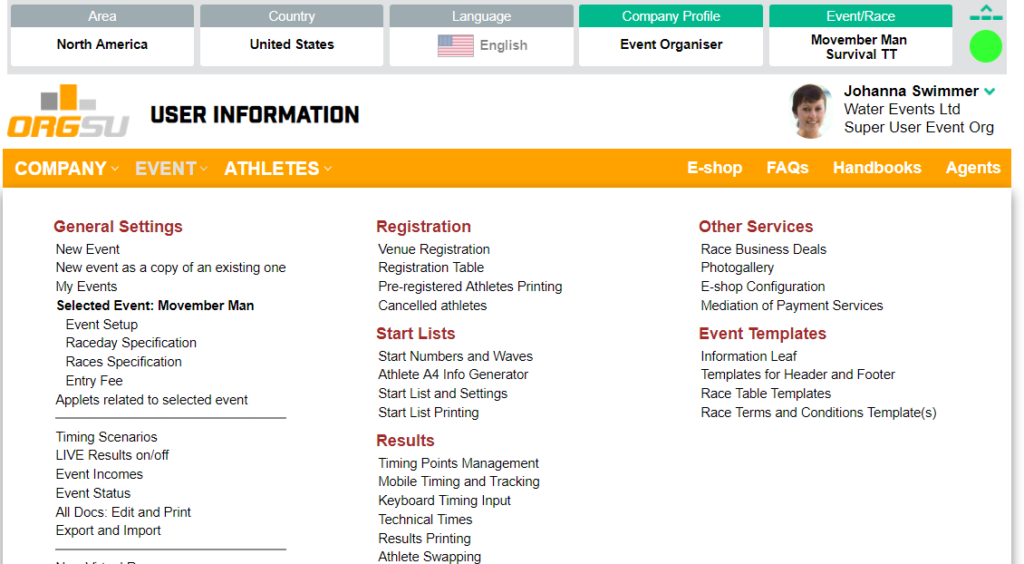 Business Agent Registration
If you are registering your business agent profile use the button Sign Up – Business Agent. Do remember an agent cannot be added to any company's crew. So use please a different e-mail to register your business agent profile.
Free Trial
Do you want to try all the admin features for free? Log on here https://tech.orgsu.org/Web/Account/Login. Enter user name 'EN.Login@orgsu.com' and the password 'Test123'. Please remember the password is case sensitive. That will get you to the administration of the company Hope Production. It allows you to view and test the ORGSU features without restrictions.
Athlete Login and Profile
There is no real athlete login/registration on this site. Athlete creates her account on the client's (event organizer, series owner, sports magazine) site(s). Such a site must be upgraded with the ORGSU applet 'Athlete Login and Profile'. Read more about the athlete login and profile here.
Support Page
The Menu/Page 'Support' gives you more opportunities to learn more about ORGSU technology and its usage.