Online Registrations
Keep your athletes on your website(s) or on your sponsors' website(s). Furthermore, team entries are no longer a nightmare; ORGSU online registrations support both individual and team entries. ORGSU  integrates this important feature and offers it to you in the form of our applets. All you need is your own PayPal, Stripe or Global Payment account credentials. It is ready for you after your registration as an event organizer.
Individual or Team Entry Process
Obviously, you need to launch an event as other pages here reveal. The last page of the event setup wizard brings the registration settings.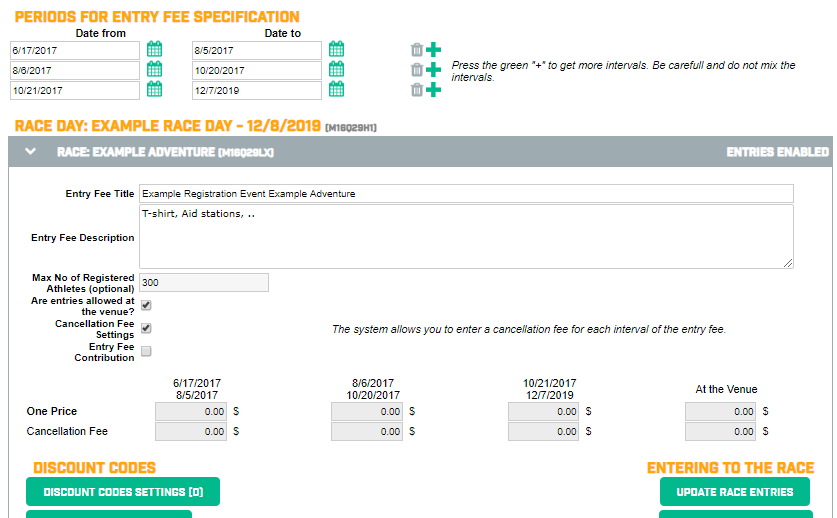 Why you need ORGSU online registrations
Online Registration keeps athletes on event/series/sponsor site(s) which is crucial for internet traffic. And for your related business.
An athlete may find her registrations inside her profile, available on the event's page. All the history.
An unlimited number of entry fee periods of the pricing.
Bulk registrations. One athlete can enter his friends or family members.
Each event can have a different currency and a different language. This feature is important for worldwide sports series.
A waiting list can be launched for important races. Entry fee for the waiting list.
Up to 4 e-shop items can be published on the main registration page. It hugely improves the selling efficiency of the race-related e-shop performance.
4 direct ways of how to get an athlete into a sold-out race.
5 different options on how to set up and apply discount codes. VIP vouchers for members and other special guys for the whole season.
Entry cancellation feature. Cancellation fees may differ with the entry fee periods.
Entry protection may be employed. BookingProtect.com API is implemented. Ask please to get more details.
Selling of daily licences for national sports federation(s). Or applying discounts for recognised members of the national federation. Don't hesitate to ask for more details, please.
Individual Entry Fee Contribution. This feature serves for charity/donation purposes during the online registration process.
Several payment methods. Each method leads and collects money directly to your PayPal, Stripe or another bank account. Orgsu Ltd does not collect money on behalf of you.
On-line start list(s) published on event/series/sponsor site(s).
Online smartphone check-in at the venue reduces queues.
Operation fees can remain hidden for athletes or published and added at any rate.
Do you want to become a registration site for other race directors? Yes, ORGSU gives you this opportunity as well.
Operation Fees
The Total Processing Fee is the sum of Orgsu fee and your payment gateway fee. The ORGSU system licence sets the Orgsu Fee %. For both individual or team entry the operation fee will be from 4% to 6 %. Furthermore, you can publish the processing fee on your online registrations or you may disable its visibility and include it directly in the entry fee amount. Don't hesitate to ask us for more details.
So register your race director & event organizer account and check out this feature for yourself.