Event E-shop Module
The event e-shop works by integrating both athletes database and events database and hence giving you a powerful tool to grow your business.
The screenshot of one e-shop administration page reveals the services that will be available to you after your registration.
Your e-shop can contain both services and goods. There are factory goods categories and you may also define your own categories.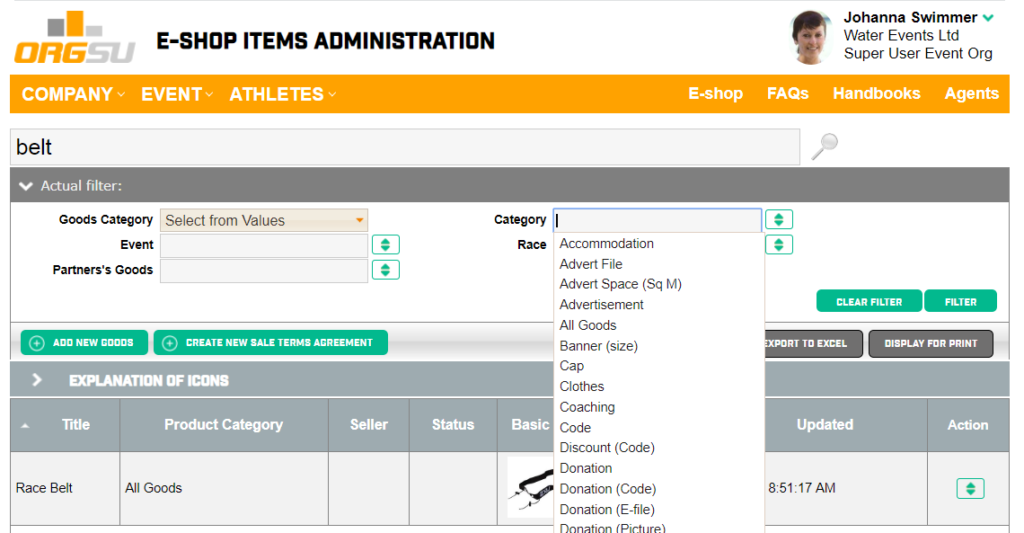 The event e-shop module can assign your goods to a specified event or just to a given race of that event. Certainly, your goods may be assi
gned to the general e-shop without any relation to any of your events. The e-shop is multi-currency and as you can see, there is no problem with multiple currencies in one e-shop.
Furthermore, your athletes can make their own business propositions to you. They can offer their goods or services in your e-shop. That brings you higher revenue and net profit and consequently increases the value of your event and possibly even your company.
E-shop and Race Registration
Up to 4 items of your goods or services may be offered directly on the main registration page. Your internet visitors select here what kind of purchase to do next. She stays on this page for a few minutes, according to our stats. And for these minutes your offering might be exposed right in front of her eyes:
This is certainly the most effective place where to offer your goods or services. So register your event organiser profile today and enjoy this innovative B2B technology.