Our timing software was used and the power ranking has been published in Finland, Czech and Italy since 1990 for several seasons. That was the very beginning of our sports technology.
Triathlon formed Orgsu Technology
Since 1990 the 3rd generation of the technology has been developed. Our true desire was to fully support our fellow organisers. So, we have given the ORGSU (ORGanizer's SUpport) title to it.
The only difference from a single discipline race for individuals is a variety of triathlons. One can set the race as with the transitions or without. There is a different order of the disciplines, even a different discipline can occur. Orgsu sorts out all of the tiny details.
Triathlon Registrations
An event organizer may run her triathlon registrations and collect her payments or she can make an agreement with the stronger business partner (like National Federation for example is). Her business partner may collect the payments on her behalf then. The business collaboration is one of the Orgsu features.
ORGSU gives the opportunity to divide the responsibility and marketing potential of the generated internet traffic between the business partners.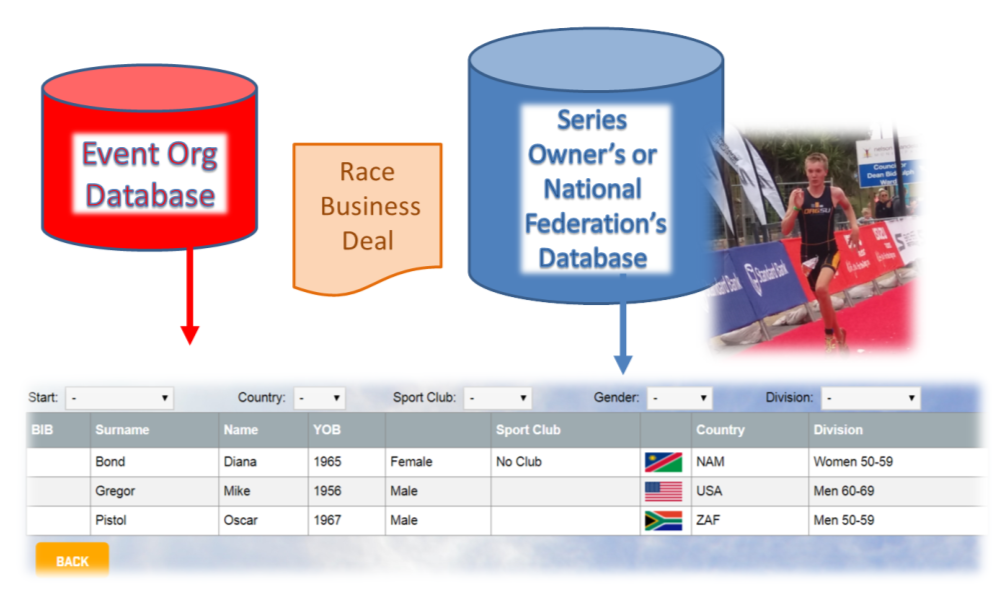 So the business partners can share their database sources to sell triathlon registrations and build up the start lists together.
Register Now
Do not hesitate to ask us for free assistance with your triathlon event today. Do your event organizer registration and launch your event. Even more, you may test ORGSU for free including the BIBs assignment and timing. Finally, you can delete all test timing data and prepare your crew for race day. Help for your registration is here.